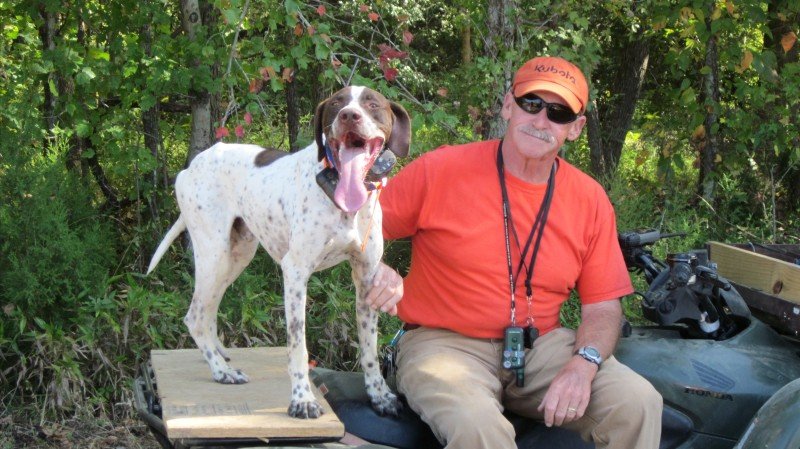 My name is George Doyle. I have been around field trials, horses and dogs since 1967 when I acquired my first bird dog, a German Shorthaired Pointer.
Axel started my field trial and hunting adventure! We had a lot of birds in New England in the late '60s Pheasant- Quail - Woodcock - Grouse and I would be out hunting from dawn to dusk every chance I had. I am an amateur field trial dog trainer and handler and have competed with my Pointers and Setters for almost 50 years. Though I started out in cover dog trials I have since moved to the horseback trials. I have judged many field trials including open and amateur championships all over the eastern seaboard as well as countless weekend trials, and been lucky enough to have met an array of good friends that have helped guide me along the way.
A retired chef, I am an artist at heart. I paint, woodwork, carve signs, make furniture and craft leather. I love working with my hands; it's good for my soul. My love for art, when put together, became a marriage and a passion. I have a small one man shop and make everything one piece at a time, using the best quality hardware and leather I can find. I can custom make whatever you need, as well as repair and restore your old favorite saddle, tack and equipment.

My wife and I live in a small agricultural area outside of South Hill, VA called Union Level. Our farm has three Tennessee Walking Horses, five English Pointers, two Pugs and a farm dog and mule that we rescued, as well as a dozen chickens; quail and homing pigeons that we use to train our English Pointers. The Pointers we have now are a cross between two great blood lines, Chasehill Bud and Sugarknoll Warpaint, the best of the north and south!
My wife JJ and I also have a Bed and Breakfast at our Dry Creek Farm. We have room for up to 6 guests at a time including kennel space and horse stalls. The farm is located approximately 9 miles from the Dick Cross (Elm Hill) wildlife management area field trial grounds. We have been fortunate to have the U S Complete Invitational handlers here every year and up until now have had 3 champions and one runner up stay here, maybe its just luck?

My door is always open to new and old friends alike, if you have a question just give me a call 781-254-7911
George